Influencer marketing ins & outs ebook
As an online entrepreneur, you've probably heard that you should 'do something with influencers'. So that you can have your brand, company, shop or product brought to the attention of 'someone' on, for example, Instagram with a lot of reach.
Is it really that simple? Yes and no. Because you've probably also heard that you can go wrong and that this form of marketing often 'does next to nothing'. And what kind of influencers are there exactly? Who does your target group have the best click with? What kind of arrangements do you make? And... not unimportantly: what does that cost?
Are these -in a nutshell- about your questions? Then this e-book is written for you. This document gives you the basics about influencer marketing and how to use it as successfully (!) as possible for your company. So how it works. Just as you are used to from me: without too much fuss around it, because your time is precious. Moreover, I close the e-book with a handy Influencer checklist that you can easily use yourself. So get started with influencer marketing!

What is it exactly?
The e-book for the online entrepreneur to quickly and easily find out what influencers are and what you can do with them. With checklist to use influencer marketing for your company.
Content
1 Influencer introduction
1.1 Why does influencer marketing work?
1.2 When does it not work?
1.3 What should you pay attention to?
1.4 When are you ready?
2 Media, followers number & types
2.1 Different media
2.2 Different sizes
2.3 Different types
3 Get in touch
3.1 How do you find an influencer?
3.2 Search within your network (and beyond)
Interview with Miriam van de Broek - Jules Bean
3.3 How do you get in touch?
3.4 Responding to Requests
4 Collaborate
4.1 What are the costs?
4.2 What does an influencer earn?
4.3 Using a micro influencer
Bonus
Bonus 1 - the influencer pyramid
Bonus 2 - ...and the fire rep
Background information
Fine links
Influence checklist
What it really does?
Do you want to know how this handy e-book can support your company? Well, after reading and with the checklist…
have you discovered a brand new way of marketing that you can now successfully use

you learn in a quick and easy way all the ins & outs you need to know about influencer (marketing)
no one can fool you anymore about influencer marketing

you don't have to figure everything out yourself, you can get started right away and you'll have time for other important things
So. Now you know everything 🙂 Do you still have questions? Then be sure to contact us!
With a SYSO VIP subscription you get direct access to all SYSO marketing courses and programs.
Let your webshop grow with pleasure!
Provides proven success without nonsense
Combining design & marketing (=magic) for 20+ years
Bureau member of the BNO and Shopify partner + expert
It is our mission to make your business successful
Bekijk alle details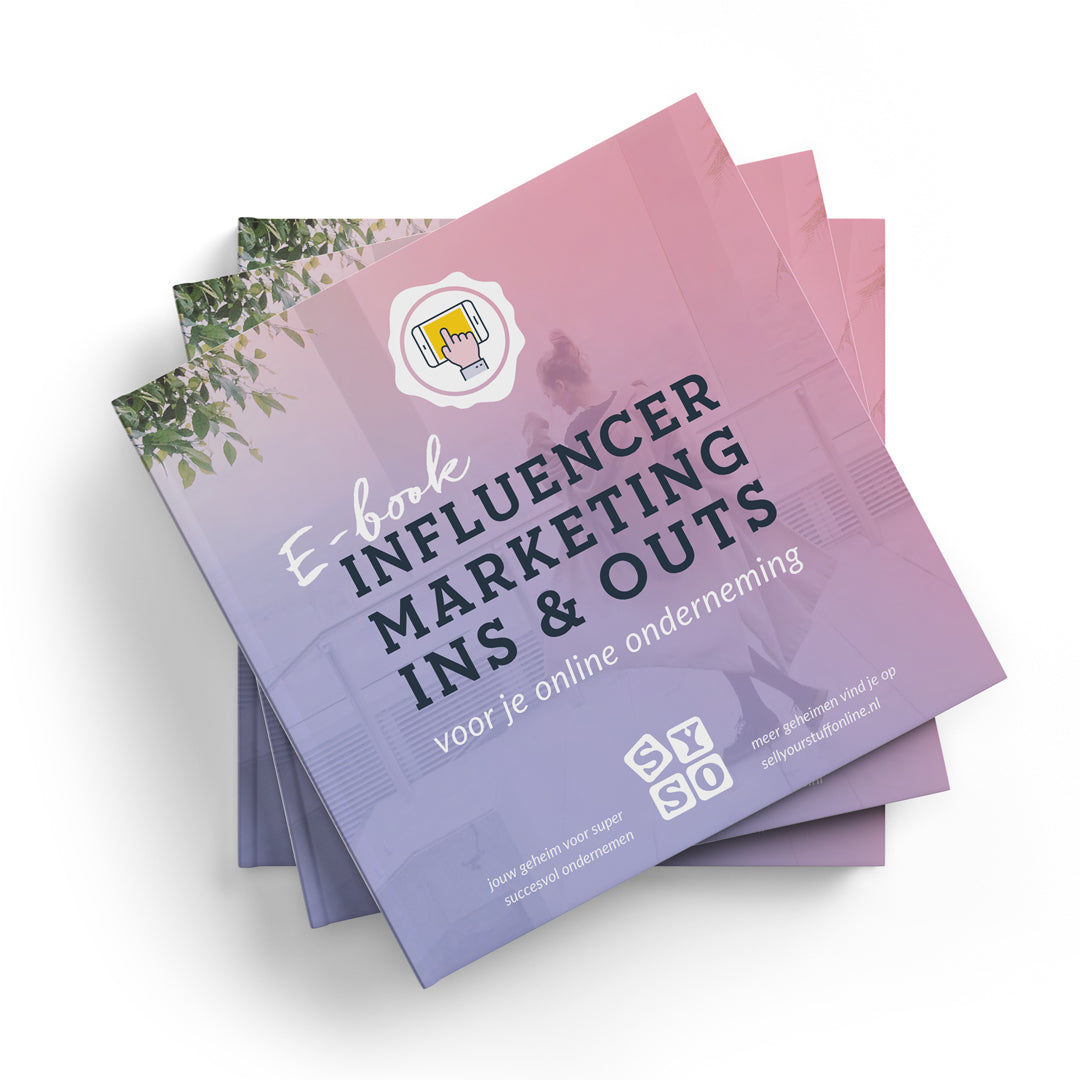 Influencer marketing ins & outs ebook