Content calendar with all relevant hook-up days of 2023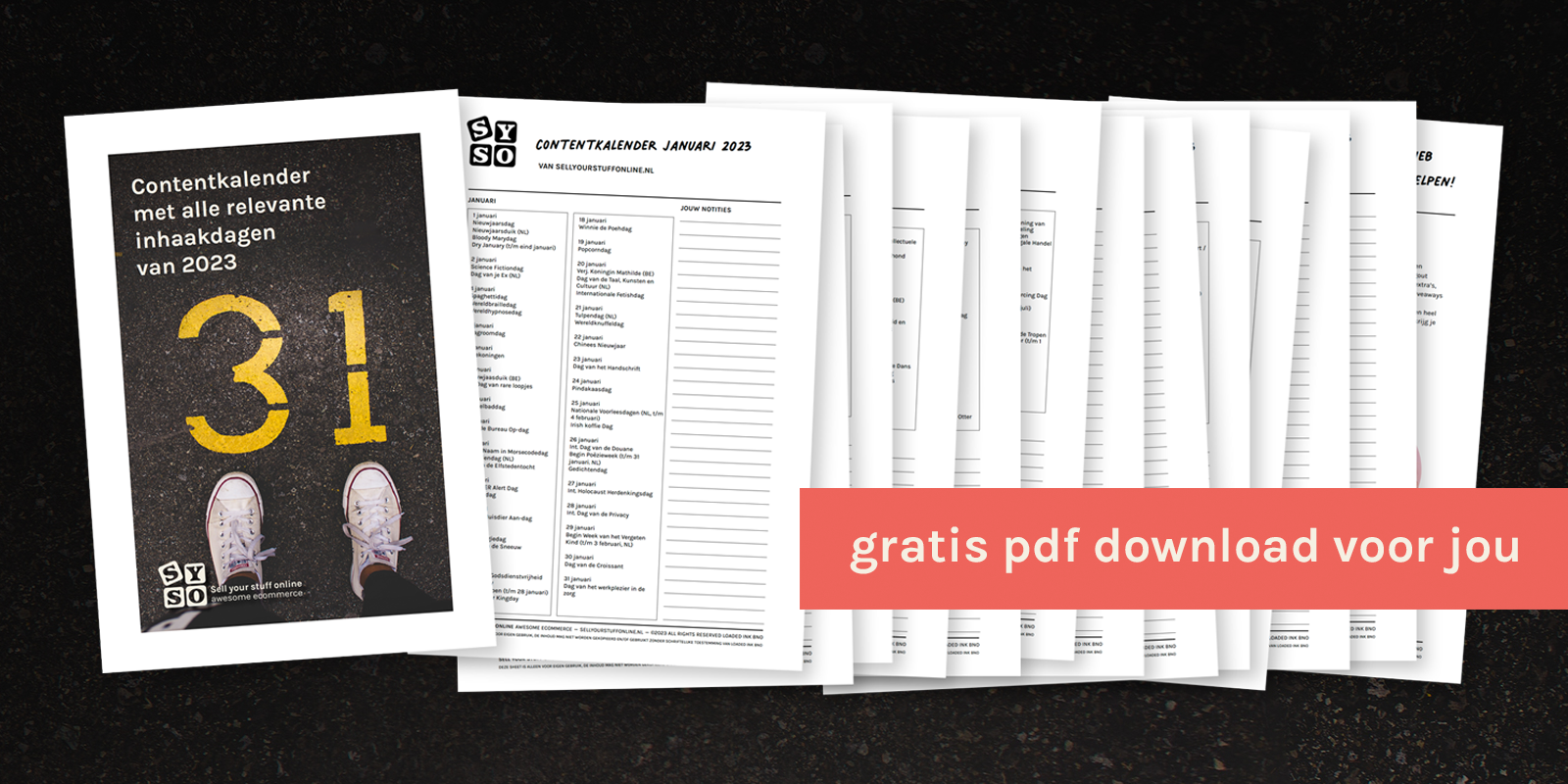 Content calendar with all relevant hook-up days of 2023
Content marketing is important to you as a webshop/online entrepreneur because it helps to generate attention for your products and brand.
By sharing useful, relevant and entertaining content, you show that you understand what you do, engage your target audience and keep them engaged. This ensures more sales, repeat customers and greater brand awareness.
With good content, you also ensure that your webshop ranks higher in Google's search results, making it more visible to potential customers. Win win!
Below, therefore, all relevant theme & holidays for your content planning. This way you won't miss a single inhaker!
✨ HANDY : by registering above you can download this complete calendar as a pdf.
January 1st
New Year's Day
New Year's Dive (NL)
Bloody Mary Day
Beginning of Dry January (until end of January)

January 2nd
Science Fiction Day
Day of your Ex (NL)

January 4
Spaghetti Day
World Braille Day
World Hypnosis Day

January 5th
Whipped cream day

6 January
Epiphany

January 7
New Year's Dive (BE)
International Day of Weird Walks

January 8
Bubble bath day

January 9
Tidy Up Your Desk-day

January 11
Learn your Name in Morse Code Day
Strawberry Day (NL)
Day of the Elfstedentocht

January 13
International AMBER Alert Day
Rubber duck day

January 14
Dress Your Pet Day

January 15
World Religion Day
International Snow Day

January 16
no day
Religious Freedom Day
Blue Monday
Start of Australian Open (until January 28)
Martin Luther Kingday

January 18
Winnie the Pooh Day

January 19
popcorn day

January 20
Birthday Queen Mathilde (BE)
Day of Language, Arts and Culture (NL)
International Fetish Day

21st of January
Tulip Day (NL)
World Hugging Day

January 22
Chinese New Year

January 23
Handwriting Day

January 24
peanut butter day

January 25
National Reading Days (NL, until 4 February)
Irish Coffee Day

January 26
International Customs Day
Start of Poetry Week (until January 31. NL)
Poetry Day

January 27
International Holocaust Remembrance Day

January 28
International Privacy Day

January 29
Start Week of the Forgotten Child (until 3 February, NL)

January 30
Croissant Day

January 31st
Day of fun at work in care
February 1
Alcohol-free month (until February 28, BE)

February 2
Wedding day Willem Alexander and Maxima (NL)
World Water Lands Day
Crepe day

February 3
Carrot cake day
Bubblegum Day
National Wear Red Day

February 4
Frozen Yogurt Day
World Cancer Day

February 5
World Nutella Day

February 6
National Economotristen Day
Zero Tolerance Day

February 7
Safer Internet Day

Feb. 10
Warm sweater day
World Umbrella Day
World Legumes Day

February 11
World Day of the Sick
Make Friends Day (NL)
European 112 Day

12th of February
Darwin Day
International Day of Marriage

February 13
World Radio Day
World Epilepsy Day

February 14th
Valentine's Day

February 17
Be Kind Day

February 18
Drink Wine Day

February 19
Start Carnival (until February 20, NL)

February 20
World Day of Social Justice
Cherry pie day

February 21st
Sint Piter (NL)
International Mother Language Day
International Day of the Tourist Guide

February 22
World Thinking Day
margarita day
European Day of the Victim
Ash Wednesday

February 23
Banana bread day

February 24
Tortilla chips day
World Bartender Day

February 25
February strike commemoration

February 26
Pistachio Day
Tell A Fairy Tale Day

February 27
International Polar Bear Day
National Pokémon Day

February 28
International Rare Disease Day
International RSI Day
March 1
International Compliment Day
Start Youth Book Month (until 30 March, BE)

March 2nd
Day of the Doctor's Assistant (NL)

3 March
Day of Hearing
World Day of Prayer
World Wildlife Day

4th of March
World Obesity Day

March 5th
Day of the Maximum Speed ​​(NL)

6 March
European Day of Speech Therapy
Day of the Dentist
World Tennis Day
Week Without Meat & Dairy (until 11 March, NL)

March 7th
Cereal day

8 March
International Women's Day
Lice day (NL)
hindu festival

9th of March
National Barbie Day
World Kidney Day

10th of March
Start NLdoet (until 11 March, NL)

11 March
World Plumbing Day
Start of Book Week (until March 18, NL)

12 March
International Day Against Internet Censorship

13 March
Start Brain Awareness Week (until March 18)
Discover the care week (NL, until 17 March)

March 14
Pi day
National Potato Chip Day

March 15
International Consumer Law Day
International Day of Social Work
National Tree Day (NL)
The water board elections (NL)
Provincial elections (NL)

March 16
Compulsory Education Day (NL)
The Day of the Healthy School Canteen (NL)

17th of March
St Patrick's Day
International Day of Sleep
National Pancake Day (NL)

18th of March
Aruba day
Awkward Moment Day
National Cleaning Day (NL)

20th of March
Start of spring
Nowruz Day
World Storytelling Day
International Day of Happiness
International Sparrow Day
International Francophonie Day

21 March
International Day Against Racism and Discrimination
International Forest Day
Day of the Single Parent
World Down Syndrome Day
World Poetry Day
Start of the Week of Psychiatry (until March 26, NL)
Medication Safety Day (NL)

March 22nd
World Water Day
Beginning of Ramadan (until April 19)

March 23
Puppy Day
Melba Toast Day (NL)
International Meteorology Day
Opening Keukenhof (NL)

March 24
World Tuberculosis Day
National Day of Music (NL)

March 25
International Waffle Day
Earth Hour
National Compost Day (NL)

March 26
Start of Daylight Saving Time

27 March
World Theater Day
Start of Money Week (until 31 March, NL)

29 March
Big Calculation Day (NL)

30 March
International Pencil Day
World Bipolar Day

March 31st
World Backup Day
Start of national museum week (until April 7, NL)
April 1st
Joke Day
Month of Philosophy (until April 31)
International Pillow Fight Day
Kom in de Kas (until April 2, NL)

April 2
World Autism Day
International Children's Book Day
Palm Sunday (NL)

April 3rd
Chocolate mousse day

April 4
World Stray Animal Day

April 5th
National caramel day
Read a Road Map Day

6 April
World Table Tennis Day
DNA lab day
Walk to your Work day
Maundy Thursday (NL)
National colleague day (NL)
Growth Marketing Event

April 7
world health day
Good Friday (NL)
Begin Paaspop (until April 9, NL)

April 8
International Roma Day

April 9
Finnish Language Day
Easter

April 10
Easter Monday (NL)

11 April
World Parkinson's Day
Cheese fondue day

12 April
International Space Day
Day of the Drop
International Day of Pink
National Poop Day (NL)

13th of April
International Scrabble Day

15 of April
Birthday King Philippe (BE)
World Circus Day
Day of the Independent Record Store
Record Store Day

April 16
World Voice Day
Day of the Good Deed

April 17
World Hemophilia Day
International Peasant Struggle Day
Week of the Tick (until April 23, NL)

April 18
European Patient's Rights Day

April 19
Garlic day
National Anti-Bullying Day (NL)
Banana day
Outdoor play day (BE)

20th of April
Chinese Language Day
Secretary's Day
High five day

April 21
Eid (until April 22)

April 22nd
Earth Day
Jelly Beanday

April 23
Day of German Beer
World Book Day
Day of the English Language
Heritage Day Flanders (BE)

April 24
World Laboratory Animal Day

April 25
World Penguin Day
World Malaria Day

26 April
World Intellectual Heritage Day
International Guide Dog Day
No Makeup Day

April 27th
King's Day (NL)
World Tapir Day
National Outdoor Lesson Day (BE)

April 28
World Day for Safety and Health at Work

April 29
World Wishes Day
Day of the Ride
International Day of Dance
International Tai Chi Day
International Day of the Veterinarian

30th of April
International Jazz Day
Day of Honesty
May 1
Labour Day
Basic Income Day
International Day of Laughter

May 2
World tuna day
World Asthma Day

3rd of May
Press Freedom Day

4th of May
Remembrance Day (NL)
International Day of Firefighters
Star Wars Day

5th of May
Liberation Day (NL)
International Hand Hygiene Day
International Day of the Midwife
Wesak (Buddha Day)

6 May
International Anti Diet Day
International Bubble Blowing Day
Nude Gardening Day
Day of the Migratory Bird

May 8th
No Socks Day
International Day of the Red Cross

The 9th of May
Europe Day
European Stroke Day

May 10th
National Offline Day (NL)

11 May
Start Ice Saints (until May 13)
Eat What You Want Day

May 12th
Day of Nursing

13 May
Hummus day
Start of the National Mill Days (until May 14, NL)
World Fair Trade Day
World Cocktail Day

May 14
Commemoration Bombardment Rotterdam (NL)
mothers Day

15 May
International Day of the Family
Dutch Celiac Day

May 16
National Archeology Days (NL, until 18 June)

May 17
World Telecommunications and Information Society Day
International Day Against Homophobia
Accountability Day (NL)

May 18
Ascension Day

May 19
General Practitioner's Day
Pizza Party Day

May 20th
Annie MG Schmidtdag (NL)
World Bee Day
World Whiskey Day

21st of May
World Day for Cultural Development
Day of the Sheep (NL)

May 22nd
International Day of Biodiversity
Day of the Practice Assistant (NL)

May 23
World Turtle Day

May 24
International Tiara Day
National Day Attention to Dying (NL)
European Day of National Parks

May 25
Africa Day (NL)
International Day of Missing Children
towel day
Tap dance day
Cycle to your Working Day (NL)
International Chardonnay Day

May 26
European Neighbors Day

may 27th
Sunscreen day
Slack (NL)

the 28th of May
International Burger Day
Pentecost

May 29
Memorial Day (United States)
Day of the Castle (NL)
Whit Monday

30th of May
World MS Day
Hug Your Cat Day

May 31
World Anti Tobacco Day
International Otter Day
1 June
World Milk Day
International Day of the Child
International Day of Parents
Say Something Sweet Day
Day of the Constructor (NL)
National Remainder Day (NL)
Content Conference

June 2nd
Rocky Road Day
Leave the Office Early Day
Donut Day

June 3
World Bicycle Day
World Clubfoot Day
Utrecht Canal Pride

June 4
International Day of the Innocent Children
National Grandpa and Omada

5 June
World Environment Day

June the 6th
Day of the Russian Language
World Pest Day

June 7
International Tourette's Day

June 8
Best Friends Day
World Oceans Day

June 9
Donald Duck day
Start of the Best Kept Secret Festival (until June 11, NL)

June 10th
Iced tea day
Doll day
World Art Nouveau Day
World Knitting Day
World Gin Day

June 11
Father's Day (BE)
NFN open day

12 June
International Day Against Child Labour
Day of the Red Roses
Train Respect Day (NL)

June 13th
International Albinism Sensitization Day

14th of June
World Blood Donor Day
National Outdoor Play Day (NL)

June 15
International Wind Day
Beginning of Graspop (until 18 June, BE)

June 16
Start of Pinkpop (until June 18, NL)
Neurodiversity Pride Day
International EHS Day

June 17
World Day against Desertification and Drought
Apple strudel day
International Surfing Day

June 18
International Picnic Day
International Sushi Day
International Day of Sustainable Gastronomy
Father's Day (NL)

June 19
Martini day
Garfield day
International Day of Strolling

June 20
World Refugee Day

21st of June
Start of Summer
Longest Day of the Year
World ALS Day
World Humanism Day
National Day of Tall People (NL)
International Yoga Day
International Giraffe Day
Topless Day (NL)

June 22
Start of Concert At SEA (until June 24, NL)

June 23
Olympic Day
International Day of Overstimulation
International Day of Widows

24th of June
International Fairies Day
Start of Defqon.1 (until June 25, NL)
Dutch Veterans Day (NL)
The national camping day (NL)

25 June
Day of the Navigator
World Beatles Day
World Vitiligo Day

June 26
International Day in Support of Victims of Torture
International Day Against Drug Abuse and Illicit Trafficking

June 27
Day of the Sunglasses
International Day of Micro and Small Enterprises

June 28
International Body Piercing Day
Caps Lock Day
Beginning of the Feast of the Sacrifice (until 1 July)

June 29
Mud day
International Day of the Tropics
Start of Rock Werchter (until 1 July, BE)

June 30th
Social Media Day
National Hairdresser's Day
July 1st
Keti Koti (NL)
Cucumber Day (NL)

July 2nd
World Ufo Day

3 July
International Plastic Bag Free Day
Stay out of the Sun Day

July 5
Bikini day

6th of July
International Kiss Day
Fried Chicken Day

July 7
Day of the Fairytale (NL)
International Chocolate Day
World Day of Forgiveness
Start of North Sea Jazz Festival (NL)

10th of July
Day of the Pina Colada

July 11
World Population Day
Holiday Flemish Community (BE)

July 13
French fries day
International Puzzle Day

16th of July
International Snake Day

July 17
World Emoji Day
Gardeners Monday (NL)
Commemoration MH1

July 18
International Nelson Mandela Day
Start of the Nijmegen Four Days Marches (NL)

July 20
Start of the Black Cross (NL)
International Day of Chess

21 July
Junk food day
National Day (BE)
Tilburg Fair (NL, until July 30)

July 22
Hammock day

July 24
Tequila day
Cousins ​​Day
Pink Monday (NL)

July 26
Uncle and Aunt Day

July 27
World Head and Neck Cancer Day

July 28
World Hepatitis Day
System Administrator Day

July 29
Lasagna day
International Tiger Day
Start of Pride Amsterdam (NL)

July 30
International Friendship Day
Cheesecake Day
Father-in-law's day
World Day Against Human Trafficking

July 31
World Ranger Day
3 August
Watermelon day

August 4
International Beer Day

August 5
World oyster day
Sneek week (NL, until August 10)

August 6
Mustard Day

August 7
International Transgender Rights Day

August the 8th
International Cat Day

10 August
International Biodiesel Day

August 11
Son and Daughter Day

August 12
International Youth Day
International Elephant Day
International Day of the Middle Child

August 13
Left Handers Day

August 15
National Commemoration at the Indies monument (NL)
Our Lady of the Assumption

August 16
International Roller Coaster Day

August 17
Saint Juttemis (NL)

August 18
Start of Decibel Outdoor (NL)
Start of Lowlands Festival (NL)

August 19
Humanitarian Aid Day
International Orangutan Day
International Geocaching Day
International Photography Day
International Homeless Animals Day

20th of August
World Mosquito Day

August 21
Hearts Day

August 22
Day of the Tooth Fairy

August 23
European Day of Remembrance for the Victims of Stalinism and Nazism

August 25
Start Redhead Days (NL)
Beginning of Mysteryland (NL)

August 28
Groningen Relief (NL)

August 29
International Day Against Nuclear Tests
September 2nd
World coconut day
International Beard Day

September 3
European Day of Jewish Culture

September 4
International Sexual Health Day
Labor Day (United States)

5 September
Cheese pizza day
International Charity Day
Sustainable Tuesday (NL)

September 6
Bonaire Day (NL)

September 8
Divorce Day (NL)
World Literacy Day
International Day of Physiotherapy

September 9th
International First Aid Day
Farmer's Day (NL)
Open Heritage Day (until September 10)
National Day of the Birth (NL)

September 10
International Suicide Prevention Day

September 11
Waste-free Week (until 17 September)

the 13th of September
Roald Dahl Bye
Day of Positive Thinking

September 15
International Democracy Day
National Moth Night (NL, until 16 September)

16 September
International Day for the Preservation of the Ozone Layer
Guacamole day
International Female Condom Day
International Eat an Apple Day
Beginning of the Oktoberfest
World Cleaning Day

September the 17th
International Country Music Day

September 18th
Cheeseburger Day
World Bamboo Day

September 19
International Talk Like a Pirate Day
Day of the Dietitian (NL)
Prince's Day (NL)

21st of September
International Day of Peace
World Alzheimer's Day
Day of the Leader and Guest Parent (NL)
conversation conference

September 22
World Rhino Day
Hobbit day
White Chocolate Day

September 23
Beginning of Autumn
Bisexuality Day
Neighbor Day (NL)

September 24
World Rivers Day

25th of September
National Vitality Day
World Dream Day
One Hit Wonder Day
World Pharmacist Day
Love note day
Start week against bullying (until September 29, NL)

26th September
European Day of Languages
World Contraception Day
Day of Home Care
National Coffee Day

September 27
International Tourism Day
Holiday Federation Wallonia-Brussels (BE)

September 28
World Anti-Rabies Day
Day of the Triagist (NL)

September 29
International Day of the Heart / Wear Red Day

September 30th
International Day of the Translator
World Deaf Day
National brother and sister day (NL)
International Podcast Day
October 1
International Music Day
International Coffee Day
Day of the Escape Room (NL)
International Day of the Elderly

October 2nd
World Farm Animals Day
International Day of Non-Violence
World Habitat Day
International School Library Day
Week of Accessibility (until 7 October)

October 3
World MSA Day
German Unity Day

4 October
Animal
taco day
vodka day

5th of October
Teacher's Day

October 7
International Day for Decent Work
International Breast Cancer Men's Day
National Elderly Day (NL)
National Recycling Day (NL)
Start weekend of Science (NL)

October 8
International Palliative Care Day

October 9
Croquette Day (NL)
International Postal Day

October 10
International Mental Health Day
World Homeless Day
International Handbag Day
World Day Against the Death Penalty

11 October
World Girl's Day
Coming Out Day

12 October
World Arthritis Day
Thank a Farmer Day

October 13
International Day of Sight
International Fertilizer Day
No bra day
International Day for the Prevention of Natural Disasters
World Thrombosis Day

October 15
International Handwashing Day
Day of the White Cane

October 16
Day of the Boss
World Food Day
International Spine Day

October 17
International Day for the Eradication of Poverty

October 18th
European Day against Trafficking in Human Beings
Day of the Chocolate Cupcake (NL)

October 20
International Egg Day
World Osteoporosis Day (NL)

21st of October
Antilles Day (NL)

22 October
Day of the Nut
World Stuttering Day

October 23
World Mole Day

the 24th of October
Kale Day (NL)
United Nations Day
Information Day of the United Nations for World Development
World Polio Day
International Gibbon Day

October 25
World Pasta Day
Day of the pie (NL)
International Day of the Artist
World Opera Day
European Social Justice Day

October 27
World occupational therapy day
World Audiovisual Heritage Day

October 28
International Animation Day

29 October
World psoriasis day
Day of Silence (NL)
Beginning of Winter Time
International Internet Day

30 October
Day of the Checklists

October 31st
World Cities Day
Halloween
World Savings Day
Reform Day
November 1st
all Saints Day
World Vegan Day
Begin Movember

November 2nd
Men Make Dinner Day
All souls

November 3
Sandwich day
Cliche day

the 4th of November
Kapladay
Customer Support Day (NL)

November 6
Day of the BHV

November 8
Day of the Radiant Professions

November 9
Day of the Inventors
World Freedom Day
International Day Against Fascism and Anti-Semitism
Fall of Berlin Wall (1989)
World Quality Day

November 10
Day of Caregiving

November 11
Armistice Day (BE)
St Martin
Eleventh of the Eleventh (NL)
bachelorette day

November 12
International Pneumonia Day

November 13
World kindness day
Week of Work Stress (until 17 November)

November 14
World Diabetes Day

November 15
I Love Writing Day
King's Day (BE)
Holiday German-speaking Community (BE)
National Working Visit Day (NL)

November 16
Day of Tolerance
Loyal-to-yourself-day (NL)
World Philosophy Day (NL)

November 17
Day of the Premature Birth
International Student Day
The Day of the Entrepreneur

November 18
European Antibiotics Day
Arrival of Sinterklaas

November 19
International Men's Day
World Toilet Day
Have a Bad Day-day
International Day of Remembrance of Road Traffic Victims

November 20th
International Day of the Rights of the Child

November 23
Thanksgiving

November 24
Change your Password Day (NL)
Black Friday

November 25th
International Day against Violence against Women

November 27
Cyber ​​Monday
November 29 Wednesday Sint Pannekoek (NL)

November 30
International Day Against the Use of Chemical Weapons
December 1st
World AIDS Day

December 3
International Day for People with Disabilities

December 4
International Cheetah Day

5th of December
Sinterklaas (NL)
International Ninja Day
International Volunteering Day

December 6
Sinterklaas (BE)

December 7
National Volunteer Day (NL)
Start Hanukkah

December 8
Purple Friday (NL)

December 9
International Day Against Corruption
International Day Against Genocide

December 10
International Human Rights Day
World Lights Day

December 11
International Day of the Mountains

December 14
International Monkey Day
Day of the Truck Driver (NL)

December 15
Naturalization Day (NL)
Kingdom Day (NL)

December 18
International Migrants Day

December 22
Shortest day of the year
Beginning of Winter

December 24
Christmas Eve

25th of December
First Christmas Day

December 26
Boxing Day

December 31
New Year's Eve
More about content marketing and planning