"How do I make customers feel at home with me?"
"How do I become more visible" and "How do I get higher in the search results in Google?" - I always answer the above questions with this answer: Start with good and regular blogging.
Because within your webshop or site there is your place, the environment where you determine what is at the top, when and for how long. There in your 'clubhouse' (blog) you are not dependent on an algorithm. It's super relaxed, because there are (perhaps) no screaming ads around you carefully penned text and you don't have to pay blue to be visible. If your blog post is posted, you use social media and your newsletter as signage with the route to your clubhouse. How delicious does that sound?
Google loves webshops with blogs
Inspire and surprise your customers so that they come back
You show your expertise, which exudes confidence
(and trust always comes before the order!!)
Conversion, conversion, conversion
A good blog is the starting point of a super effective content marketing strategy
Order and pay for this tool here. After that you will get direct access to our Campus and you can get started right away.
Bekijk alle details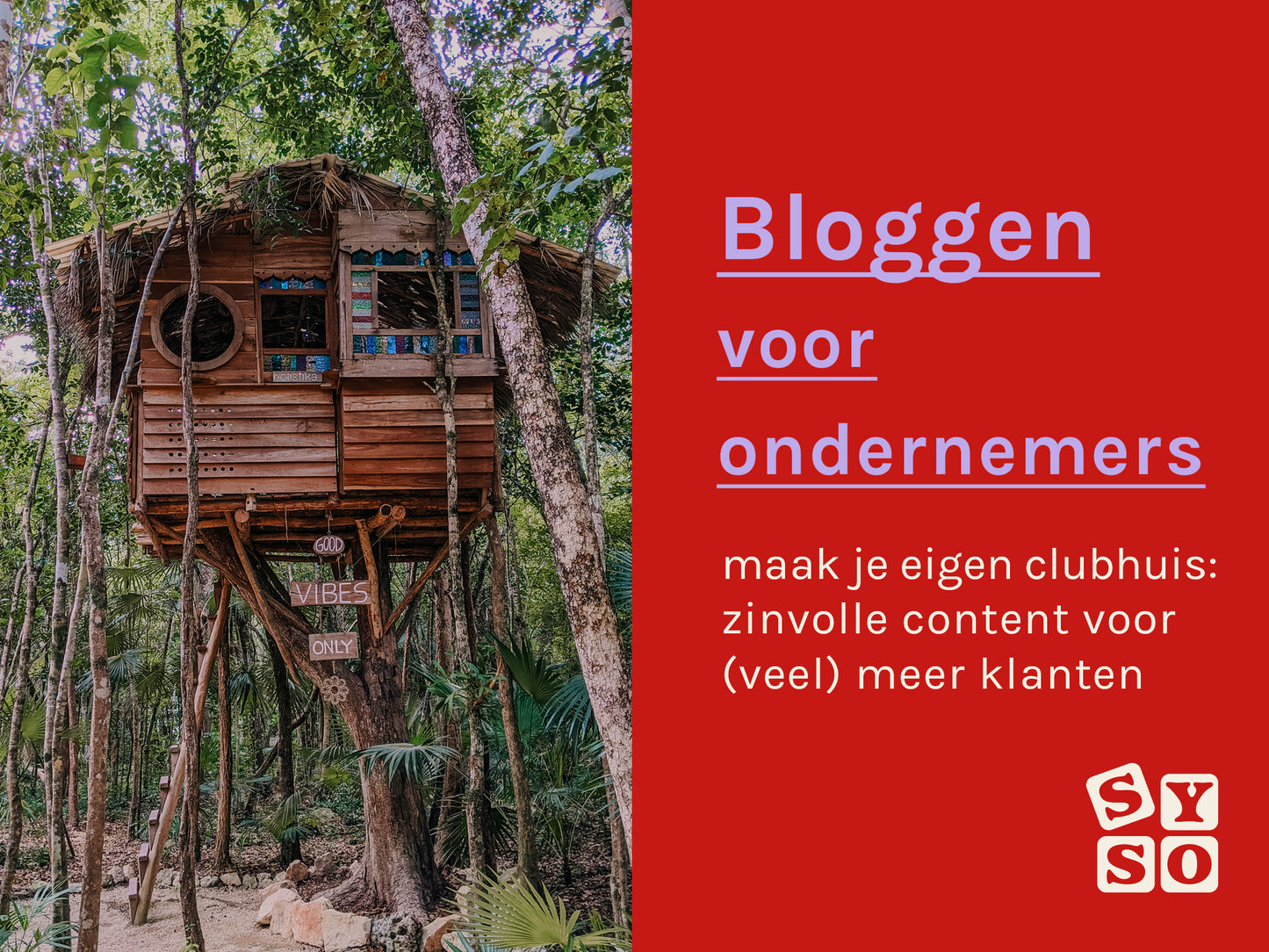 Blogging for entrepreneurs - online course
My name is Mariko Naber, I am a branding and online marketing expert, with a great love for ecommerce and founder of SYSO. Together with my partner Mark I own design agency Loaded ink BNO and ran my own jewelery label and popular webshop Applepiepieces (sold in 2017) for 10 years.
Over the past 20+ years, we've discovered strategies and formulas that have made our own businesses and those of hundreds of others mega successful. Our enormous treasure chest of knowledge and experience, critical view on well-trodden paths and BNO membership have made SYSO the ultimate go-to for Dutch and Belgian online entrepreneurs since 2014.
We understand big, small, the profession, online business and you. We, Mariko, Mark and team SYSO, are happy to help you with a successful business that makes you proud and that takes care of your freedom.
In this course you will be taken step by step and you will soon know exactly how to write an irresistible and converting blog post time after time (nice and fast with the help of ChatGPT) . So you don't have to find out anything yourself and you're not alone. Useful!
This online course was written by me based on our many years of marketing and e-commerce experience. After writing hundreds of well-read blog posts, for ourselves and for our customers, I have come to this result. There are often multiple ways to do something, this is our proven successful way.
Who is this online course suitable for?
All SYSO tools have been specially developed for the online entrepreneur, webshop owner, coach, service provider, freelancer and SME who are ready for online growth in terms of traffic and turnover. If your requirements go beyond what is offered here, please contact Loaded ink BNO for more information or advice.
Frequently Asked Questions
This is -in a nutshell- the content of this tool, complete with videos and printable PDFs:

Introduction
Who, what, where and how?

Blogging basics
What is Blogging?
Why should you blog?
Good blog examples

STEP 1
What is your target?
Your audience

STEP 2
The topic of your blog post
Types of blog posts
Blog post inspiration ideas

STEP 3
The perfect setup of a good blog post
Examples of rich blog posts
Make your blog post visually appealing

STEP 4
Write a rock-solid blog post
A super good subject line = KEY!
Apply SEO basics
Make and reduce images SEO proof

STEP 5
Shout it out
Examples of social media posts

Blogging using ChatGPT
Let artificial intelligence write your blog posts for free
This is how you can have free blog posts written by AI

BONUS
EXTRA - Blog tips
EXTRA - Guide: Update, recycle or delete old blog posts?
EXTRA - Be the solution
Yes, but be aware that you are in fact reinventing the wheel, while we have already done that for you for a long time. With this to the point online course you will have earlier results because we know exactly what works (and doesn't), how to write a great blog post. Again and again.
Doesn't matter, if you only have an opportunity to post a blog, then it's all right. Wordpress, Shopify, Lightspeed, Wix, Bigcommerce or Squarespace, it's all possible. With a hack you can even blog with a Mijnwebwinkel.
Certainly not! The course is suitable for any business, whether online or offline, selling products or services.
You can go a long way in a weekend and, as far as I'm concerned, have already posted your first blog post. But if you do the course in addition to your daily work, then take 2 weeks for it. So it really depends on how much time you can spend on it.
Yes, if you choose SYSO VIP , you have all SYSO tools at your disposal, including this full course!
You will have access as long as the course is available.
attract your new audience
inspire them with a familiar clubhouse
show your expertise, create a bond and customers will come back
do you sell without being salesy
Do you know exactly how to blog for business? Once and for all!