Time-saving email templates for your webshop eBook
"This way you have (much) more time to do business!"
Working full-time on your webshop, spotting beautiful brands and materials, creating products... how nice life would be if you could do that day in and day out.
Unfortunately, we cannot answer your customers automatically and keep your mailbox empty. We can help you with the structural easing of the e-mail task. In the e-book specially written for webshop owners you will find:
• 26 business and friendly email templates
• 10 comprehensive tips to ease the e-mail task
• a well-functioning, efficient return form
What is it exactly?
E-mail, a recurring task for the (online) entrepreneur. It can be time consuming and something you see like a mountain, but it can also be scheduled and fun. In your case I think 'become', otherwise you wouldn't consider not purchasing my e-book now. Because just as social media can suck time away, the e-mail box can certainly be to blame for this. With the e-mail tips, templates and extra bonuses, I am sure that keeping up with your e-mail will become a lot more relaxed. Supplied as e-book in PDF format.

The content explained in more detail
• 26 customizable business templates for time-saving email. With this you are well on your way to an efficient e-mail system for yourself. Copy > paste and gone is your answer!
• 10 tips for time-saving email. The nice thing about them is that they can all be applied immediately and you immediately notice a change in time spent. Yes!
• explained the basics of a well-functioning return form + an example of an efficient return form

What it really does?
Do you want to know how this handy e-book can support your company? Well, after reading and with the templates…
• you have handy prescribed e-mail messages that you can send in no time in response to recurring questions
• you know what to answer, how to handle business in a professional yet friendly way
• it is a nice basis for your e-mail communication that will really save you valuable time
So. Now you know everything 🙂 Do you still have questions? Then be sure to take a moment Contact with us!
With a SYSO VIP subscription you get direct access to all SYSO marketing courses and programs.
Let your webshop grow with pleasure!
Provides proven success without nonsense
Combining design & marketing (=magic) for 20+ years
Bureau member of the BNO and Shopify partner + expert
It is our mission to make your business successful
Bekijk alle details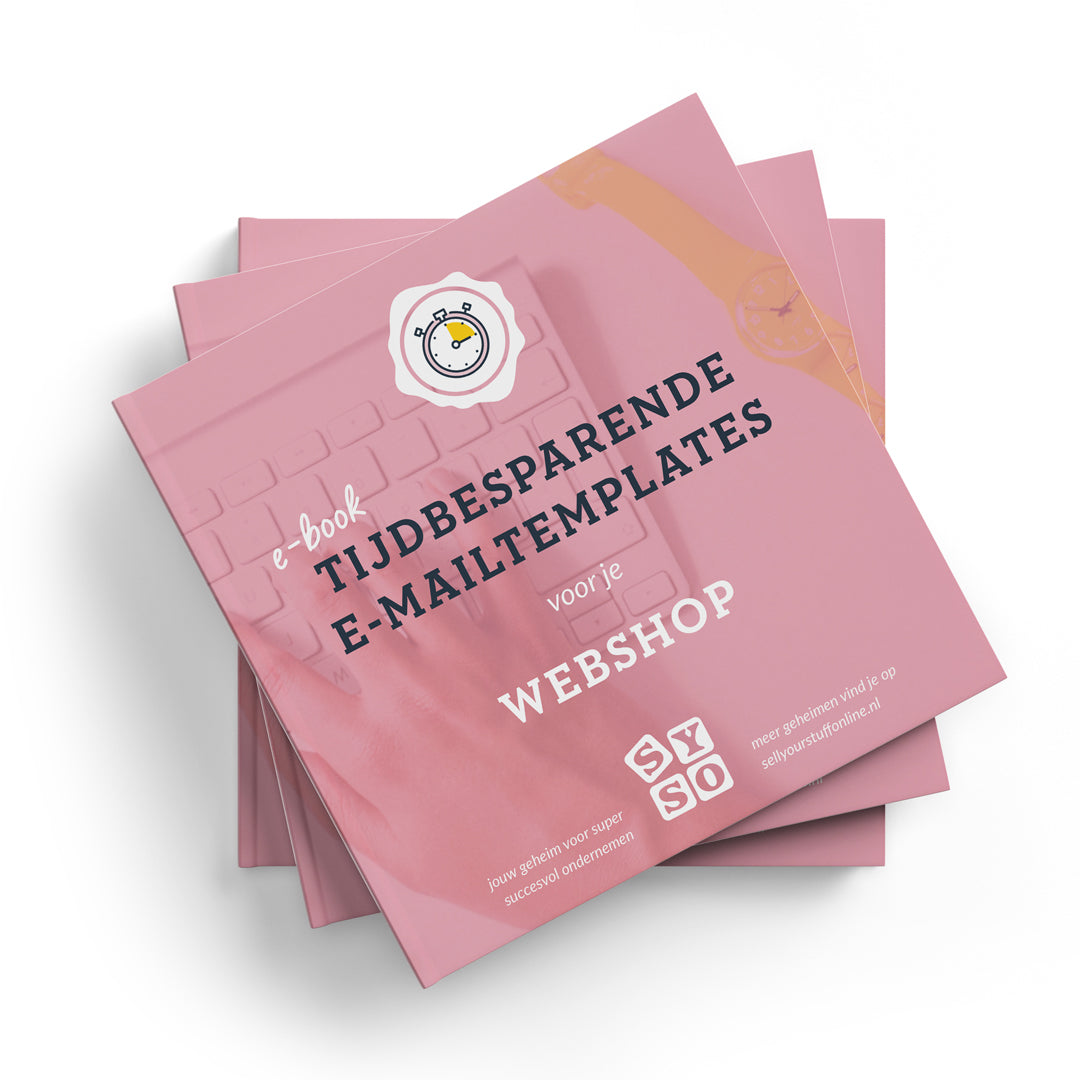 Time-saving email templates for your webshop eBook